Broccoli Revolution: Making Vegan Food Trendy in Bangkok
A Socially Conscious Eco-Friendly Fast Casual Plant-Based eatery and Smoothie/Cold-pressed juice bar.
Broccoli Revolution opened in Bangkok in 2015 to promote the power of vegetables and fruit by offering Bangkokians affordable, fresh, good quality vegan food and juices. Currently, with two locations in Bangkok, there are many things that continue to make Broccoli Revolution stand out from the crowd of trendy healthy restaurants.
Walking into Broccoli Revolution from the busy streets of Bangkok feels like stepping into a peaceful, garden retreat. Customers are greeted with a variety of open seating options including a farmhouse table for collective family-style seating, intimate little round tables, or cozy couches nestled in the corners. Exposed brick walls, giant ferns hanging down from the industrial ceiling or wooden latticework, and clean white tile make for a relaxing atmosphere fitting for a business lunch, a weekend afternoon of casual working, or even a healthy date night. Staying in line with being a fast, casual café, customers place their own orders at the counter, grab their own utensils at the self-service cutlery bar, and help themselves to the free orange or cucumber-infused water.
Broccoli Revolution's menu boasts a wide variety of cuisine options from all around the globe, all made with organic ingredients that are locally grown. With sometimes unexpected vegan twists on everything from traditional Thai favorites to savory Indian food to classic Italian dishes, you certainly don't need to be vegan to appreciate the variety of flavors featured throughout the menu which proves there is more to vegan food than simple salads. A quick look on Instagram shows that some of their most popular menu items are the colorful Smoothie Bowls (200 THB) and the loaded Broccoli Quinoa Charcoal Burger (220 THB). With menu prices in the range of 200-400 Thai Baht, Broccoli Revolution has proven that healthy, organic food is a realistic dining option in Bangkok.
Organic food that's not just better for your health; it's better for your community and the environment.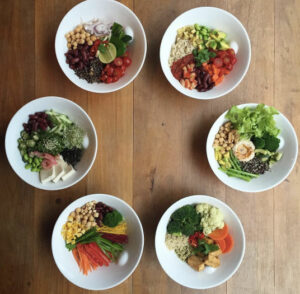 While its food is reason enough to come back for seconds and thirds, what makes this vegan café truly special is its focus on giving back to the local community through its collaboration with Sati—a Bangkok based non-profit. Founded in 2010 by one of Broccoli Revolution's co-owners, Sakson Rouypirom, Sati's mission, according to its website, is to improve health care and education in underserved areas of Thailand. The non-profit is currently working with at-risk youth at the Hub Saidek Foundation – a shelter in Hua Lumpong offering support to disadvantaged children. Using mindfulness to influence their purpose (Sati is a Buddhist Pali word that means mindfulness), a quick look at Sati's Facebook page show projects ranging from weekly planned parenthood and young mother's clinics in Bangkok, to visiting tribes in Northern Thailand, to even holding dance and Muay Thai classes. A percentage of the sales from Broccoli Revolution are donated to Sati, so customers can feel confident that their money is working to not only improve their own lives through healthy eating but to also improve the lives of disadvantaged people throughout Thailand.
But being a socially conscious restaurant isn't just about giving back to the community; it's also about making positive impacts on the environment. A recent example is how visitors to Broccoli Revolution will see that they have more than one straw option to choose from: no straw, a natural straw, or a plastic straw. Broccoli Revolution's natural straws are made from washed and disinfected morning glory stems, with signs encouraging customers that "by choosing no straw or a natural straw, you help us reduce plastic waste." Broccoli Revolution has proven their commitment to decreasing their plastic consumption by stating in response to some followers' concerns on Instagram that they use bio-degradable plastic and are even currently looking for natural container options.
Whether it's your craving for food that tastes as fresh and healthy as it is delicious, open, airy space to work at or dine with friends and family, or the desire to support companies that give back to their communities and care about the environment, Broccoli Revolution is more than just a trend—it's the restaurant that will have you coming back for more!
How to get there?
Broccoli Revolution currently has 3 locations at Charoenkrung, Central Embassy, and Sukhumvit 49. 
Charoenkrung
55/6 Charoen Krung 42/1 Alley, Street, Bang Rak, Bangkok 10500
Central Embassy
1031 เซ็นทรัล เอ็มบาสซี Phloen Chit Rd, Lumphini, Pathum Wan District, Bangkok 10330
Sukhumvit 49
899 Sukhumvit Rd, Khlong Toei Nuea, Watthana, Bangkok 10110
Guri community discussions about Vegan & Vegetarian diet
Discussions tagged with 'vegan'
Viewing 1 - 5 of 5 discussions
Recommend

0

recommendations
Published in Vegan & Vegetarian, Nutrition, Guri Reviews