Vivid by Verita Review: Recover, Replenish, and Rejuvenate with IV Vitamin Drips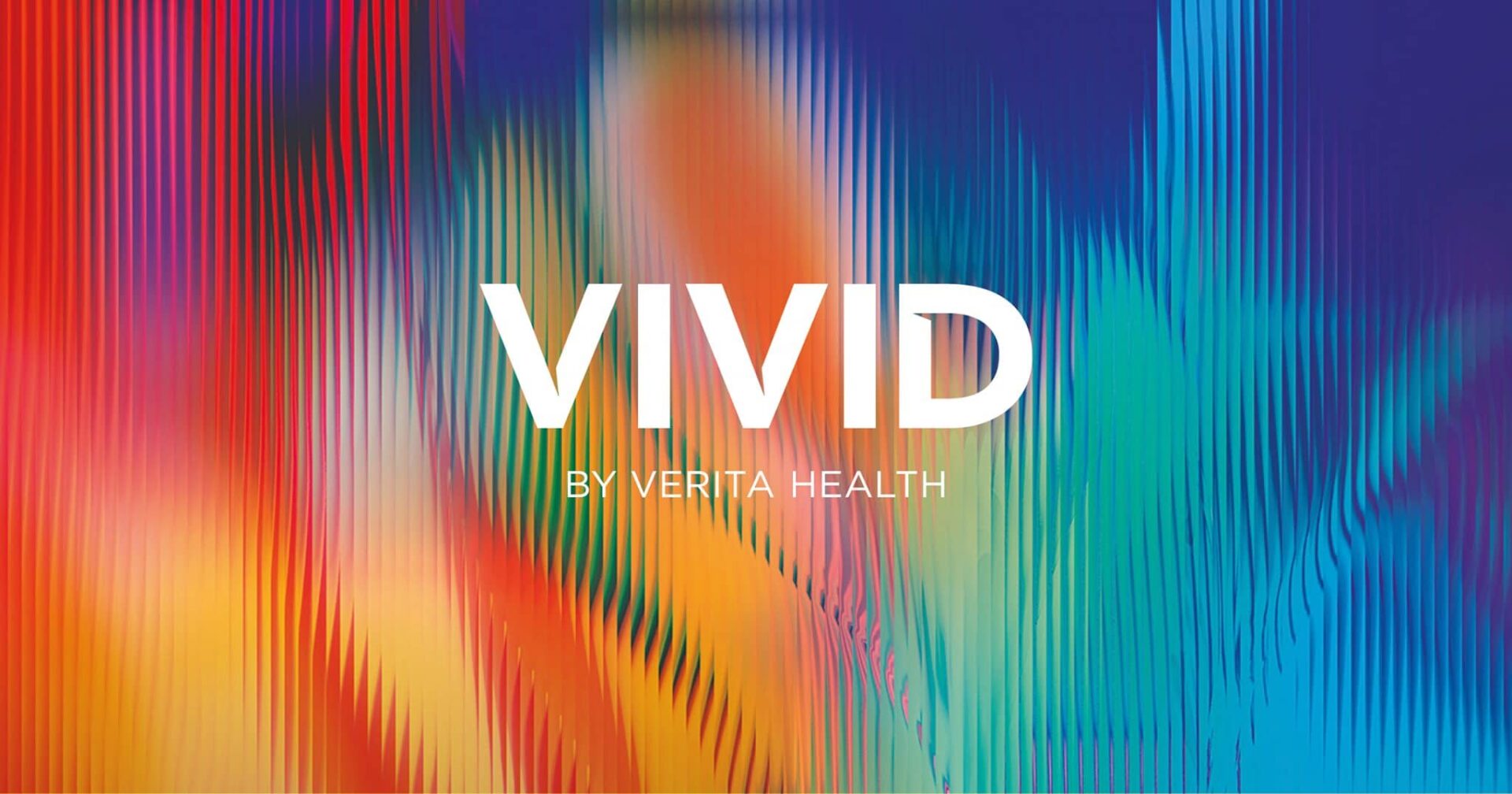 Vivid by Verita, the IV Vitamin Drip Bar in the heart of Bangkok. Located at Anantara Siam Bangkok Hotel, are a part of Verita Healthcare Group, the global leader in wellness healthcare.
IV Vitamin Drips: A Personalized Experience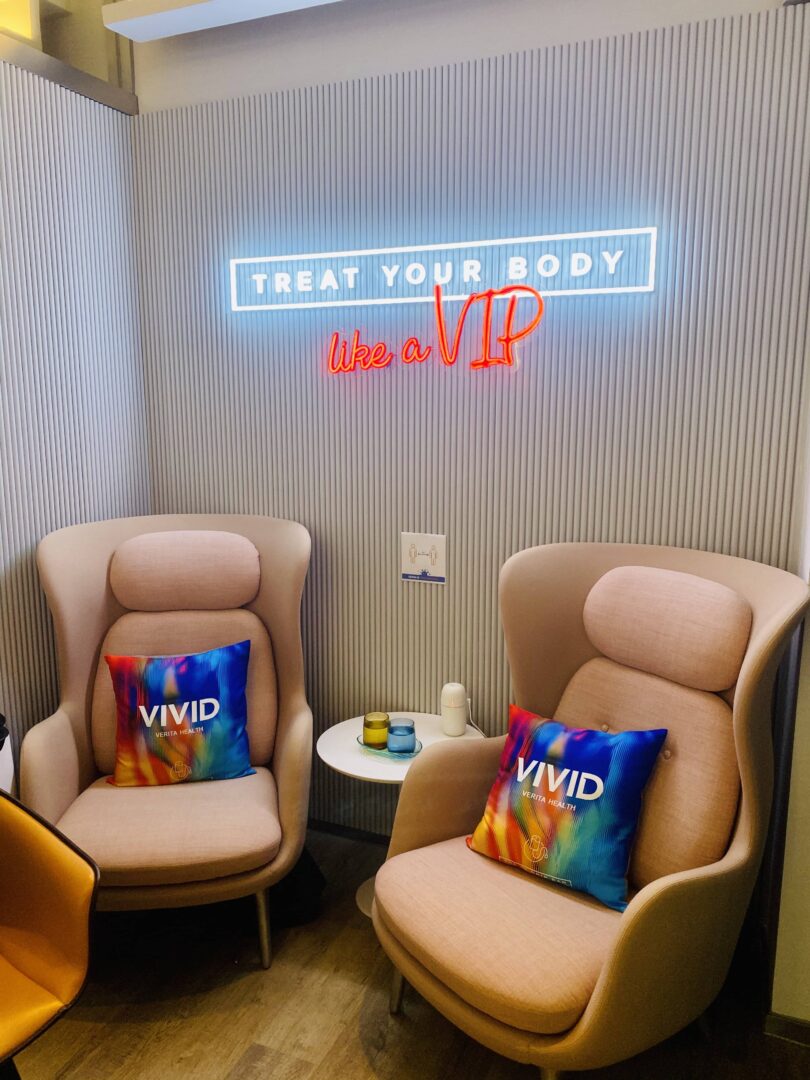 "Treat your body like a VIP" –  brightly displayed when you walk into the vibrantly decorated reception area of the clinic – all this while being greeted and assisted by their professional team. Before getting any treatment or program from the clinic, the team will ask about your medical information to see whether the program you choose is suitable and safe for you!
Vivid by Verita Health is an IV vitamin drip bar and aesthetics hub, located in Bangkok, specifically designed to serve supplements by IV or intravenously. Apart from the vibrant reception area,  the treatment area is decorated with a relaxing vibe with projected moving pictures of water drops on the ceiling and a beautiful view of a small garden area that is very soothing and relaxing.
The intravenous infusions are made up of minerals and vitamins that the body needs but might be lacking.  The IV vitamin drip bar menu offers numerous formulas that have been proven and prescribed by licensed medical professionals in this field. Each formula is specially made for specific problems you are concerned with and offers a variety of health benefits. They offer a variety of drips chemically designed to aid in multiple categories, from rejuvenating your skin to increasing your metabolism, and even hangover blends that recover and revitalize your body from alcohol toxins.
In the midst of the COVID-19 pandemic, Vivid by Verita also offers immune support programs or the 'Immunity Drip' to improve your body's immune system against flus and viruses and strengthening the body's natural defense system.  
For those of you who are not sure what vitamins and minerals your body is lacking, Vivid by Verita also provides lab testing for Micronutrients. This lab test will show you what vitamins and minerals your body is missing, and after the test, they will recommend the formula that is suited perfectly to you! 
Apart from their innovative program of IV vitamin drips, they also offer other health-boosting programs such as medical-grade oxygen therapy, luminette light therapy and ozone therapy drip package.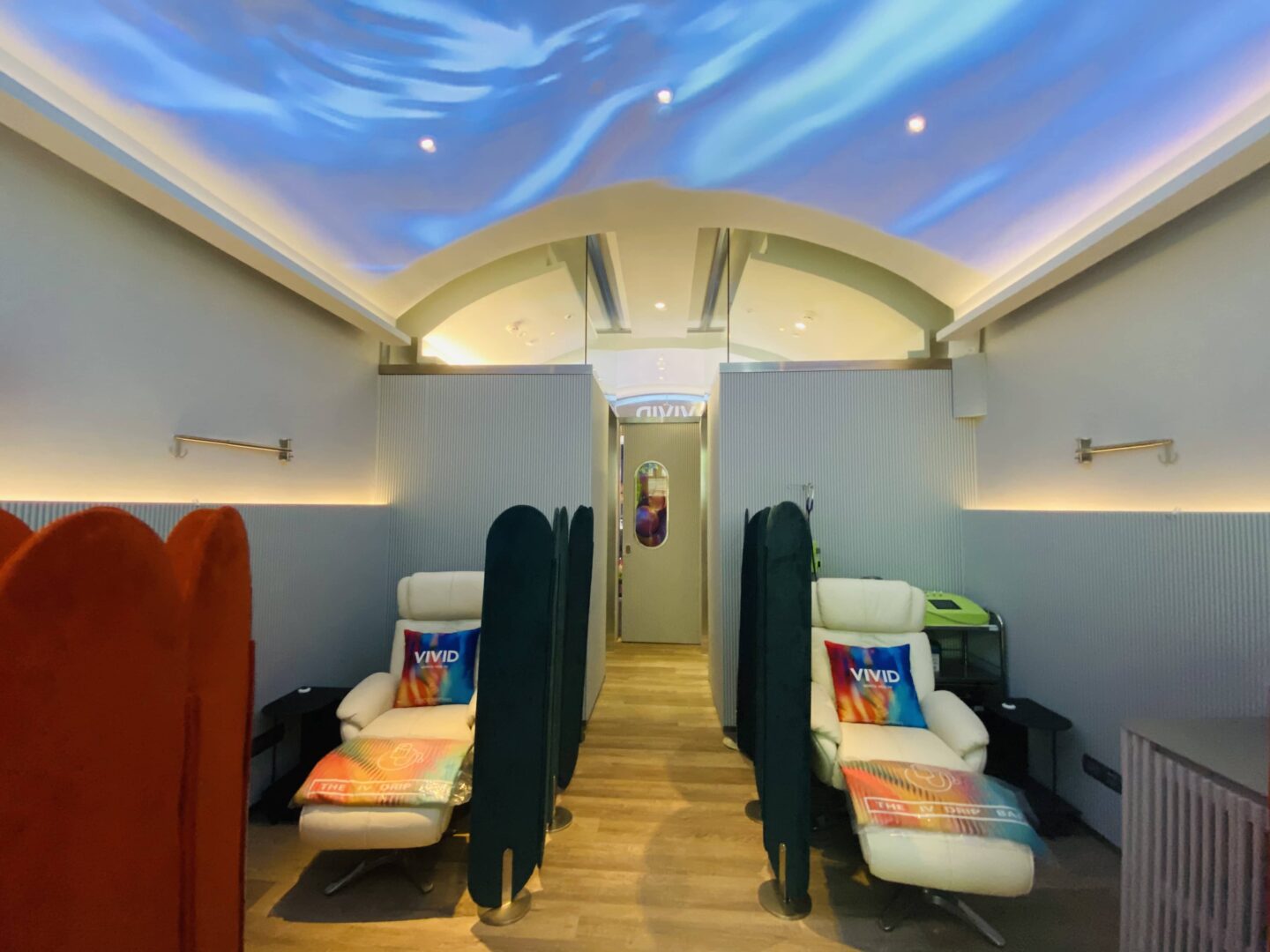 Programs by Vivid by Verita 
Here is an overview of some of the programs they offer including the procedures and how each of them benefit your body and health.
Vitamin IV Drips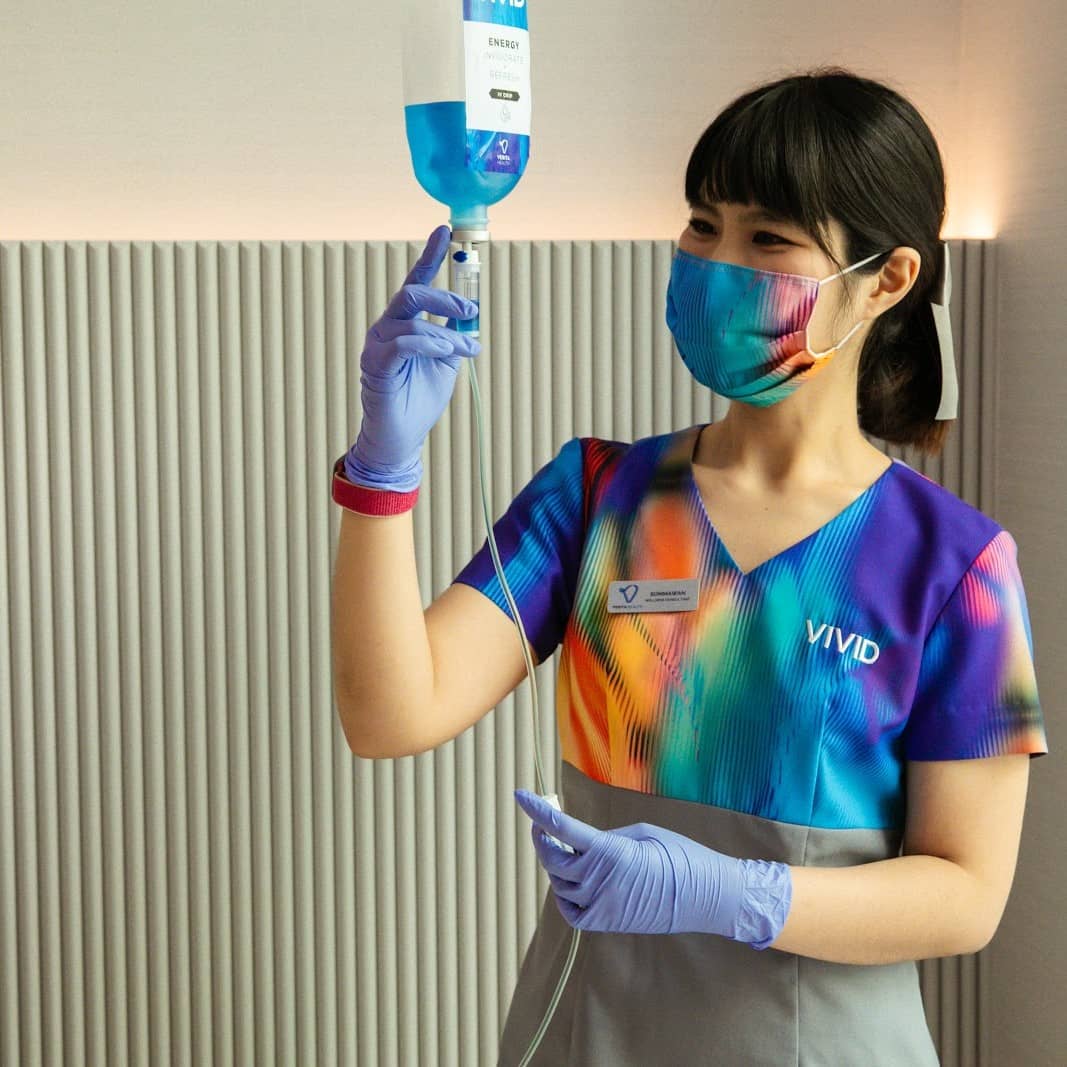 As mentioned, Vivid by Verita's famous program offers customers with "IV drip" treatments that are scientifically formulated with a fast absorption rate which takes about 30-40minutes and for people who are in a rush can enjoy "IV express" which takes only 20 minutes. 
Vivid offers various options of vitamin cocktails ranking from anti-aging, anti-oxidant, boosting immune system and also rehydrating your body from their "Hangover" or "Recovery" cocktails. The drips are delivered directly into your bloodstream, and the vitamins are instantly ready to remedy your body's health and wellness needs.
Medical-Grade Oxygen Therapy
This program is created to combat bad air pollution by increasing your metabolism, boost brain power and with a 90% medical-grade oxygen that infuses lavender and eucalyptus to relax and refresh more. 
The main benefits are to increase your body's oxygen levels in order to keep cells healthy, reduce inflammation and of course increase energy levels. Oxygen can also help with stress and reduce hangover symptoms! The oxygen therapy is given through a Nasal cannula and takes about 20 minutes.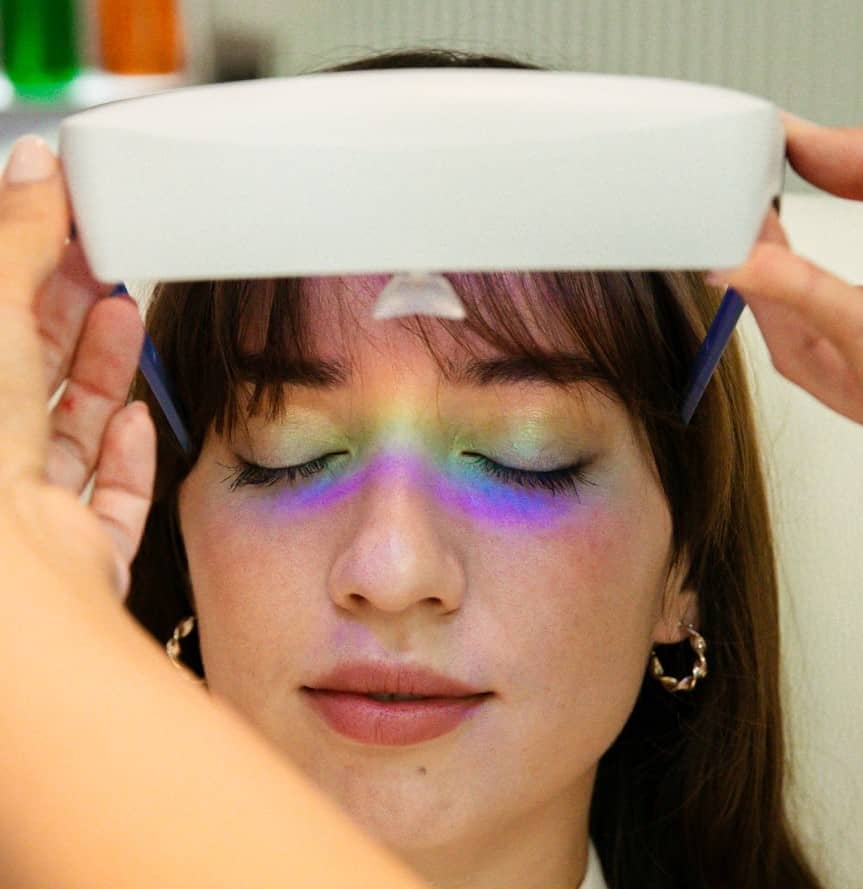 Luminette Light Therapy
Vivid provides light goggles that can help naturally reset your body clock, mood and sleep schedule. The Luminette Light Therapy benefits from the re-energizing effect of the sun in a healthy, safe atmosphere to stabilize the circadian rhythm and uplift the mood while promoting a restful night of deep sleep. This therapy takes about 20 minutes.
Ozone Therapy Drip Package
This treatment is made to increase the oxygen level in your blood to boost your immune system and enhance anti-ageing by oxygenating the tissues in the body. Ozone therapy also helps with detox, improving circulation, cardiovascular health, and chronic fatigue or stress. 

This program is not like the normal IV Drip programs mentioned above. The treatment involves drawing 150-200 ml of your blood, which is then infused with ozone and given back to you through an IV Drip. This treatment is also recommended for those suffering from chronic conditions.
Get to know more about IV Vitamin Drips!
Many of you may be wondering what exactly is IV drip?  How does it work? or is it safe? Here is an explanation that will resolve these mentioned issues.
What are the origins of IV Vitamin Drips?
Looking back to the history of IV Drips, they were first developed in the 1960s by Dr.John Myers, his research led to the Myers cocktail drip which contains a high dose of magnesium, vitamin c and vitamin b. Today, the Myers cocktail drip has been popularly used in clinics that offer IV Drips .  IV Drip or Vitamin Drip is a modern medical option to deliver vitamins and minerals directly into the bloodstream for a rapid 100% absorption. The process length can range from 15 minutes up to an hour.  The blends are made entirely of vitamins and minerals that the body needs such as vitamin C, vitamin B and vitamin D. The IV Drip is boosting the vitamins that our body lacks. Clinics nowadays are able to create formulas to meet your needs and any problem you have whether if you want to rejuvenate your skin, improve your metabolism to even jet lag or hangover cures. 
Who would benefit the most from IV Vitamin Drips?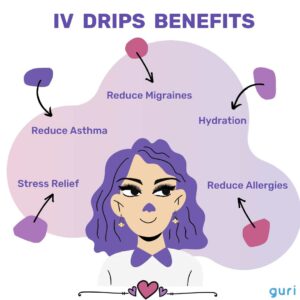 Traditionally, IV drips were made for people who are not able to eat enough food or have an illness involving nutrient absorption. Yet today anyone can get IV drips to boost their body's system even if they are strong and healthy. However, IV drips are also beneficial to those with medical problems. Health experts have mentioned that a number of patients who struggle with problems such as asthma, migraines, chronic fatigue syndrome and allergies have shown positive results from IV drip treatments. Vitamin drips are also popular for stress relief and getting rid of toxins in your body.  Many also use IV vitamin drip for a quick therapy after an intense sporting event for rehydration to the body.
What are the potential risks from IV Vitamin Drips? 
Let's take a look at some risks of IV Drip. According to medical experts on Healthline, they mentioned that absorbing too many vitamins can be bad for your body in other terms receiving "too much of a good thing". Excessive levels of vitamins and minerals can be bad for the body's organs and should be avoided if possible. Moreover, medical expert Debra Sullivan, said that risks associated with vitamin drips could include blood clots and vein irritation and inflammation. She also mentioned that if the infusions are not professionally monitored and the fluids drip too fast can lead to a risk of fluid overload, this can affect electrolyte balances in our body. Nonetheless, to avoid any risks caused by IV Drips it is important to consult with the licensed medical professional about the procedure and risks before undergoing any treatment. 
Reference 
How to get there 
Vivid by Verita is located at The courtyard of Anantara Siam Bangkok Hotel, on Ratchadamri Road, Lumphini.  Parking is available at the hotel or take the BTS to Ratchadamri Station. Tel: +66 (0)2 003 4918
Guri community discussions about IV Vitamin Drips
Discussions tagged with 'IV-Drips'
Viewing 1 - 5 of 5 discussions